Guests at the Global Child Forum at the Royal Palace of Stockholm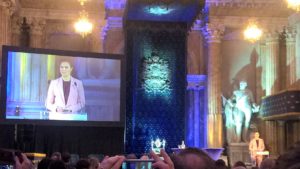 Now for the second time we had the great honour of being invited guests at the Global Child Forum at the 11.04.2018 Royal Palace in Stockholm. The Global Child Forum promotes children's rights all year round. The Royal Family of Sweden is chaired by – and everyone joins in wonderfully down-to-earth ways. The highlight is the annual conference, where approx. 500 participants worldwide from business, administration and aid organisations, as well as those affected, are invited. This year's motto was "Business Impacts on Childrens Right." The talks were inspiring and eye-opening. Quite honestly – you just don't think about some things in everyday life, especially in the richer countries: About supply chains, about the consequences of consumption, about children as our future, about the importance of education and, in particular, about the strong influence that the business world has in the business world in the Positive sense to uphold children's rights. In addition to many international lectures, there was also real work in open discussion rounds, the so-called ActionLabs. The wonderful event was framed by a very serious and plot address by King Carl-Gustav of Sweden and by wonderfully emotional and inspiring closing words from the Crown Princess Viktoria of Sweden.
At this year's event, guests were urged to make a written pledge regarding the commitment to children's rights. By the end of the conference, 35 of these written promises had been made – always for one company at a time. Two of these promises Lars and I made – once for HeiReS and once for IT helps. On five very concrete commitments, which we will now include in our corporate structure, we have listed as an extra point our emerging IT solution for a better reconciliation of family and work. There we will build an area "The Rights of the Children" in order to spread awareness of it.