Welcome App Dresden finally deleted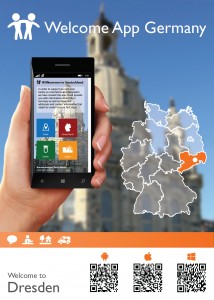 The Welcome App Dresden was deleted on all platforms at the end of January 2018-also at the request of the city of Dresden, which has been expressed clearly on several occasions. The Welcome App Dresden was no longer developed after its release in the summer of 2015 due to the new line-up for a Welcome App Germany-as a result, the content was also outdated. What was initially well intended as a joint project between Saxonia and Heinrich & Reuter Solutions as an app for refugees in Dresden was not sufficiently supported and disseminated by the managers of the city of Dresden. You have to look at that at some point and draw the consequences.
The relevant local contacts for Dresden have long been transferred to the Welcome App Germany as an independent region. As a result, users have the advantages of the overall package of the Welcome App Germany, which is sustainably developed and constantly maintained. Even an area of "labour market and economy" through the involvement of local business enterprises will soon emerge within the Dresden region – also in order to counteract the shortage of skilled workers. We hope that the Dresden Expert Alliance will be happy and offer maximum benefits for cooperation in Dresden.