Welcome App: Refugee Helper Becomes a versatile information system for migration and integration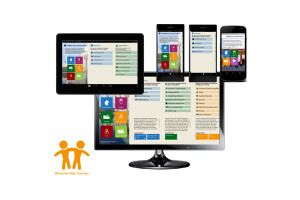 It was pretty much two years ago when we introduced the Welcome App Germany-originated from the Welcome App Dresden-as a digital refugee worker for the whole of Germany. The vision for the app was that it should help refugees cope with general and regional information and facilitate integration no matter where people arrive, are housed or reside in the longer term in Germany. We have achieved this objective, as far as it was in our capabilities. It is true that we have found that, as a result of the decreasing media presence of the refugee crisis, both the willingness to cooperate of cities and regions not directly affected has decreased sharply. We also had to recognise that the less "popular" the issue of refugee aid became in the public eye, the more "popular" the issue of refugee aid also declined noticeably. Nevertheless, we have steadfastly adhered to our vision, implemented many things on our own initiative and are now looking at a system that has grown impressively in terms of technical and content:
More than 60 cities and regions integrated with local content, information, contacts in the app
More than 25 topics related to everyday life and life in Germany covered with detailed information
All information content currently available in nine relevant languages-expansion in work
Smartphone apps available for Android, Windows and (currently still functional) for iOS
Windows App as a universal solution for Windows 8 and Windows 10 PCs, notebooks and tablets
Impressive download and daily usage figures of apps in Germany and worldwide
Good adoption of apps as an information platform with the target audience and beyond
Reliable and future-proof data storage on current cloud technology in Germany
Praising words and active use of the content distribution system developed for concept
Consistently positive, national and international perception of the whole concept
Concept of the app honored in many places in award nominations or special mentions
Versions of the app as an application for Windows 7 and as a web version already in the works
Steady expansion and improvement of apps and management system according to user needs
Very early on after the first release of the apps, feedback pointed out that the content we put together is not only relevant to refugees, but can actually be interesting or even important for anyone who finds themselves short, medium or Would be in Germany for the long term. This is just one of the reasons why we have researched and supplemented more and more topics in the continuous expansion of the information areas, and the relevance also e.g. B. for foreign students, regular resettlers within the EU or even for German citizens with an immigrant background. We have also steadily expanded the number of regional information on cities and regions, for example, B. the compilation of all relevant authorities and their contact details.
This set signs of a slightly changed orientation of the Welcome App Germany as early as 2016, which we are now consistently pursuing and implementing accordingly. The Welcome App Germany will, of course, continue to be a real source of help and a source of information for refugees that meets the needs of the public, but at present much, much more. The most topical one has been the matter of the moment. B. Spanish as a language for the content, as many of the EU immigrants come to Germany from Spain. We are thematic, e.g. B. with areas such as studies in Germany or planned special areas for permanent housing in Germany or an interface to the labour market very purposefully addressed to resettlers and regular immigrants. We go so far that our research also purposefully aims to keep the app and its contents interesting and informative for people who have lived in Germany for a long time.
In addition to the technical and content development as well as slight changes in orientation, we have also done a lot of administrative work. In mid-2017, for example, we transferred the Welcome App Germany into the hands of the non-profit IT that we have founded, helping gGmbH, which will henceforth focus on the management, extension of content and dissemination of the app. The system will take care of. This means that we do not just have another unmistakable signal as to this. No commercial intention is set, it also allows us to accept significantly smoothless monetary assistance and also issue qualified grant confirmations ("donation receipts"). In addition to the Welcome App Germany, we also use IT to help us achieve freely available, high-quality IT solutions on the topics of better education, equal opportunities and accessibility, in order to use current technology to disadvantage people with disadvantages. Any kind to help.
Welcome app Germany
A project of IT helps gGmbH
Scariastr. 9, 01277 Dresden
Phone: + 49 (0) 351 31293064