Two Years of Welcome App Germany-Two Years of Successful Integration Assistance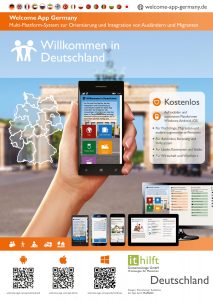 The 03.10.2017 was an important day not only for Germany as the Day of German Unity. The Welcome App Germany is also 03. October always important – as a birthday. Our IT solution for migrants of all kinds in Germany celebrated its two-year anniversary on 03.10.2017. And with all the work we currently have with the project, we have gone down smoothly. That is why we dare to take a look back today. On 03.10.2015, the Welcome App Germany saw the light of the public by publishing on all smartphone platforms. The precursor app Welcome App Dresden, which was inspired by the idea of Viola Klein of a digital refugee worker for Dresden with support with Saxonia Systems, was thus taken by HeiReS to the next level-on the German-wide level. Even in the first version, the complete federal structure of all federal states was indicated.
The special added value of the Welcome App Germany was and is the "Life in Germany" section as a major reference work on all topics that are relevant for cooperation and orientation. This area continues to grow and has now gained a book volume. For us, too, one or the other is still new and very interesting. We have thus managed to deliver the attempt, which has already been launched by others, to provide a "manual Germany."
At the turn of 2016, we began to integrate bit by bit, cities and counties with their local information and in particular with a large number of contacts, in order to give the people who arrived here direct help for the life suburb and a Better local togetherness. Now, after nearly two years, it's just under 100 cities and counties.
Since spring 2016, we have expanded the spectrum of the app's output formats piece by piece alongside the pure smartphone apps, which were initially aimed only at refugees. With a modern solution for Windows PCs, the Welcome app can also be used on tablets, laptops, PCs and terminal. Combined with the language switch, there is a version that can really help in the dialogue between migrants and aid workers or authorities. Our vision for the near future is versions for older PCs on Windows 7 as well as a website version of the Welcome app.
What is hotly debated today is already recognised and implemented in autumn 2016: Migration and immigration is not a purely refugee issue. Being welcome in Germany should apply to all those who have arrived here for whatever reason – especially since immigration is an important issue for Germany. That is why, on the one hand, we have expanded the variety of topics to include immigrants for working, studying, training or doing business, and we also have included the Europe area of origin as guests and fellow citizens. In addition to information, this obviously has an enormous influence on the linguistic diversity of the Welcome App Germany, which already has more than 10 languages-more than 30 are targeted.
Over the course of two years, the diverse work on the Welcome App Germany was carried out over the course of two years as an honorary business by the Dresden IT company HeiReS – short for Heinrich & Reuter Solutions GmbH-to provide something helpful from the conviction with his own skills. Do. This is basically an activity for the community, however – nonprofit. In spring 2017, Peggy founded the non-profit company IT helps gGmbH with the intention of helping humanly and socially with IT solutions. The Welcome App Germany was transferred in the summer of 2017 under the umbrella of IT helps gGmbH. The IT helps gGmbH is now hoping for support from the administration and business so that it can lead the Welcome app to much more size.
If you want to help migrants and refugees, you shouldn't just do that with digital solutions. A really effective form of help is to give a real job of work on an equal footing. As early as autumn 2015, HeiReS hired a refugee with Ahmad for the first time – at that time as a web developer. As of April 2017, Yazan found a way into the HeiReS team as an office and marketing assistant and is now a highly valued colleague. And in November 2017, with Mootaseem, we will be hiring another Syrian tightly as a software developer. Considering that HeiReS is only a small company with just under 10 employees, that is probably quite a good quota.
In retrospect, the Welcome App Germany was associated with an incredible amount of work and a wide variety of extremely unexpected challenges. All, however, has not and will not be deterred from sticking to the project and pushing it forward. Ultimately, it is worth every single user to whom the app offers important information and thus facilitates the arrival, integration and coexistence in Germany. We firmly believe that information and communication are the keys to successful and collaborative integration, which is what we still see as our task with the Welcome App Germany.