We are always a foreigner outside our own home country.
For true open-mindedness and successful integration
Current social challenge:

We go to other countries for different reasons and it's mostly the same with foreigners, who are guest on time or fellow citizens here in Germany.: To travel, business, study, work, make, but also on the run, people from different countries are coming to Germany.
To get along in a new country and to not accidently behave wrong it is necessary to know the regional laws, rules, habits of the people and traditions of the country. This information must be available fast, easy, and accessible. Digital applications in this context are a sign of openness to the world, if they are also shown in a language understandable to the guest. Also local contact information are essential to get in touch with people or to cope with various things of everyday life. A little knowledge of languages is always the best bridge.
Our projects as a solution: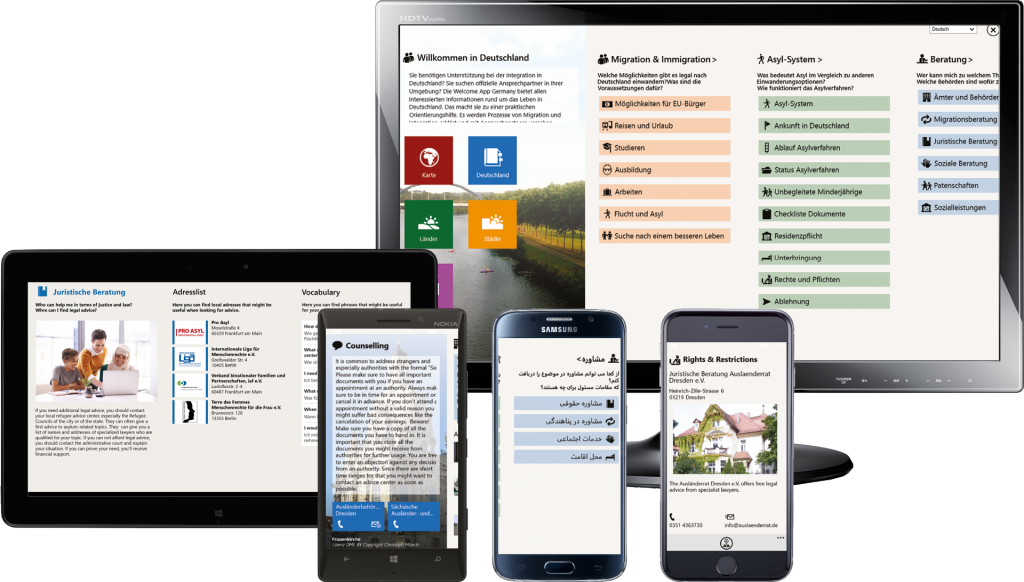 Since October 2015 our "Welcome App Germany" exists as a digital solution. This is a universal and multilingual IT solution with many helpful information, as well as regional added value through countless local contacts.
It serves the orientation and integration of migrants, asylum-seekers and foreign citizens of all kinds. It is aimed also to all those involved in the integration process: Management authorities, consulting and help system, economy and welfare. Our current focus is on two core areas: An area to learn the German language and support the direct interaction and an extension of the application to local businesses for the connection to the labour market. Our vision is a similar solution for other countries.
Visions of development:
A small integrated digital German language course for all
Including all provinces, main cities and counties
More languages as a sign of openness to the world
Version as a website and a version for older PCs
More interaction possibilities for users
All texts as sketchy short videos with sound
Join the Welcome App Germany with your content – as a city or region, as helping organizations, as institutions, as a company.
Latest news about this topic:
Press release 07/21/2021: Peggy wins Excellence Award while speaking at the 7th International Speaker Slam