Change of perspective: Job + work from a refugee's point of view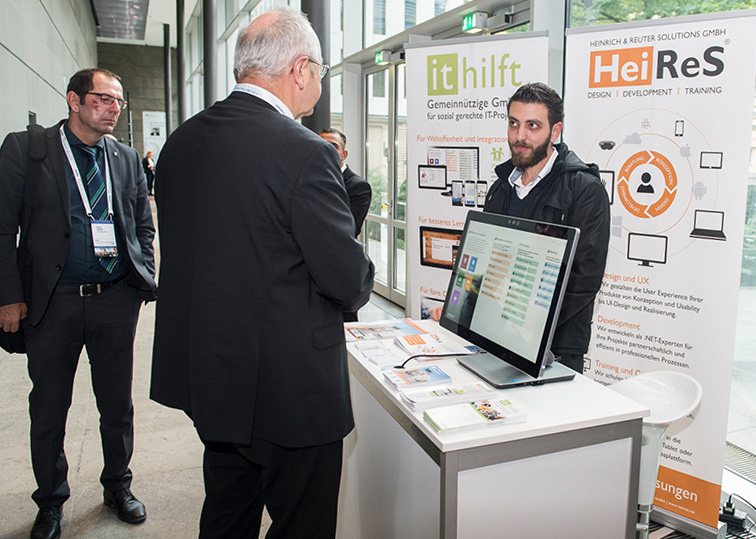 Yazan as Syria, who has been very successful and very satisfactorily supportive of our team for months, took the time to write down his story towards a job in Germany. The result is a really good text, as we find, which describes from a different perspective what there is to know and consider on the web to work in Germany for refugees and migrants.
---
My experience in finding work in Germany until I received the required work. OR My way into the German world of work How can I get a job offer and where should I research for a job offer? There are many ways to get a job offer.
One of these methods is to go to the job center in your city and ask for job offers there. After that, the job centre will send you job offers by post.
There is also the possibility to get a job offer on the internet. There are many websites that include job offers.
You can do research for an internship in one of many companies. You could also apply for a job and create your CV online.
How can I write a CV? I have already searched the Internet about CV forms that are suitable for the German labour market. I filled in my information with the help of a German person. The information was:
My personal information as well as the certificates received, completed courses and certificates about the workspace.
I should apply for the job with my CV and an application letter.
In the application, you should write about why you are interested in this job, your practical experience and skill, as well as the work done before.
You must write your application in official form. In the header are your name, your address, possibly. Phone No. And email address to write and at the end of the letter you must sign according to the greeting formula (With friendly greeting).
Add your certificates, certificates and certificates to your CV and application letter and send them to the company's address by email or post.
If you want to send your application online, it's best to upload all the files in one format (PDF).
After that, the company will study your request and let you know the decision. The company will you possibly. Inform by e-mail or post about the reasons for the cancellation.
If your application has found interest, the company will give you an audition date.
What files should I submit for an interview? What should I talk about in an interview and what better not to mention?
In the interviews you must present your certificates, certificates and all documents, give the reference to your CV and the planned career path.
It is best to wear formal clothing during the interview and speak respectfully with der/den Person/-en.
In the interview, the interviewer will ask questions about you.
He will ask you questions about your strength, about your skills and abilities, but possibly also ask about your weaknesses.
In this case, you would have to answer all questions accurately and honestly.
During the interview, you should not talk about your personal affairs.
If you are accepted at the end of the interview, you will be given another appointment to check and sign the employment contract.
How can I understand the content of the employment contract? What are my duties and my rights at work?
The second appointment will be in the personal management department, they give you an employment contract. (There are many types of employment contracts in Germany. For example: Full-time contract, part-time contract and mini-job contract.)
This contract includes your duties as an employee to the company, your rights, information about your agreed salary, some notes on prohibited things in the company and the things that can be done, the number of vacation days and many Other information.
If you don't understand any of the content of the employment contract, you can simply ask the interviewer for explanation.
What else do I have to do after signing the contract?
You must tell the Employment Agency that you have been given a job and forward the employment contract and some documentation about the new job to them.
Then the Employment Agency will stop your unemployment benefit, which you have received so far from the Employment Agency, but only if you have full-time work.
In some other cases, e.g. B. Minijob, the agency will make additional payments for housing and health insurance as well as a small amount that you will receive in addition to the salary from your new job.
What to do if I need to fill out an important document?
In Germany, there are many organizations that can help refugees and foreigners, an example of these organizations: Caritas.
One of these services is to assist with the translation, filling out the applications and packaging the papers.
You can go to these organizations and ask for help in filling out the applications and translating if you can't understand the content.
There is also another solution. The Germans are nice and helpful. You can simply ask one of your acquaintances or neighbors for help. If they have time, they will certainly be happy to help.
My new job
On your first day of work, your department head will instruct them into your field of work and give you tips and advice on your tasks and activities. In your workplace, you have colleagues. If you have a question about the work area, you can direct it to one of your colleagues in the department and ask for clarification. If you work full-time, one of your rights is to get a break within working hours that they also have to comply with. But you have to stick to the work schedule and respect the rules of the company you work in.
There are some things that are not allowed in companies, for example:
Lack of work without Attest/ist
Misconduct with colleagues and subordinates
Disclosure of confidential information about the work of the company in which you operate may expose you to legal accountability and result in the termination of the employment contract without notice.
Violation of the employment contract
But in return, you have many rights:
Holidays: An adult (over the age of 18) is entitled to a minimum of 24 working days a year if they work 6 days a week. Those who work five days a week have the right to 20 days of leave. The workers ' office employee should set the date of the leave at the beginning of the year and submit a written application to the employer. The employer or head of department ultimately decides on the possibility of granting leave on time or not.
Special leave can be levied in the following cases: Death of a family member, employee's personal wedding, move to a new apartment
Working overtime: An employment contract often includes an overtime clause that specifies the maximum number of hours, how many overtime hours can be worked, possibly. Only for a certain period of time. Often, some companies reimburse their employees "overtime as vacation days.
Salary: At the end of the month, you will receive your salary agreed in the employment contract after all taxes and social security contributions have been reduced. Carefully remove social security reporting certificates and certificates of merit.
---
We intentionally published this text unchanged and not corrected. Considering that it was written by a Syrian who has only been working since about the age of about 1865. 2 years living in Germany and learning German, we find the text as it is very impressive.
Yazan is now officially, indefinitely and on an equal footing with all other employees as an office and marketing assistant at HeiReS-the "commercial" sister company of IT helps-and we are very happy to have him with us!
Picture: © Signo Media & Conference GmbH (Simone M. Neumann)