Lecture 'Refugee aid 4.0' in the Saxon Landtag
Peggy had IT helps gGmbH opportunity to keep – right also large parquet in the Saxon Landtag for the first time its new lecture refugee 4.0. The Minister for integration and gender equality Mrs Petra Köpping and the Saxon foreigners representative Geert Mackenroth had invited to the NIMS-meeting on the 26.04.2017. Representatives from community, management, charities and voluntary work were integration and migration in Saxony at the network meeting. Alongside other pulse presentations by high-profile speakers to language acquisition, consumer protection, labour market integration, Peggy with "Refugee aid 4.0" provided impetus for the topic of digitisation in the refugee assistance and integration. Yadav was also with – eventually it affects him as a Syrian refugee hired at HeiReS. Felt particularly honored we have me of great conversations with our representatives, as well as the strong interest in the dialogue that hopefully drag acts in. The quote of a participant makes us very proud: "Your presentation was alone's value, to come here."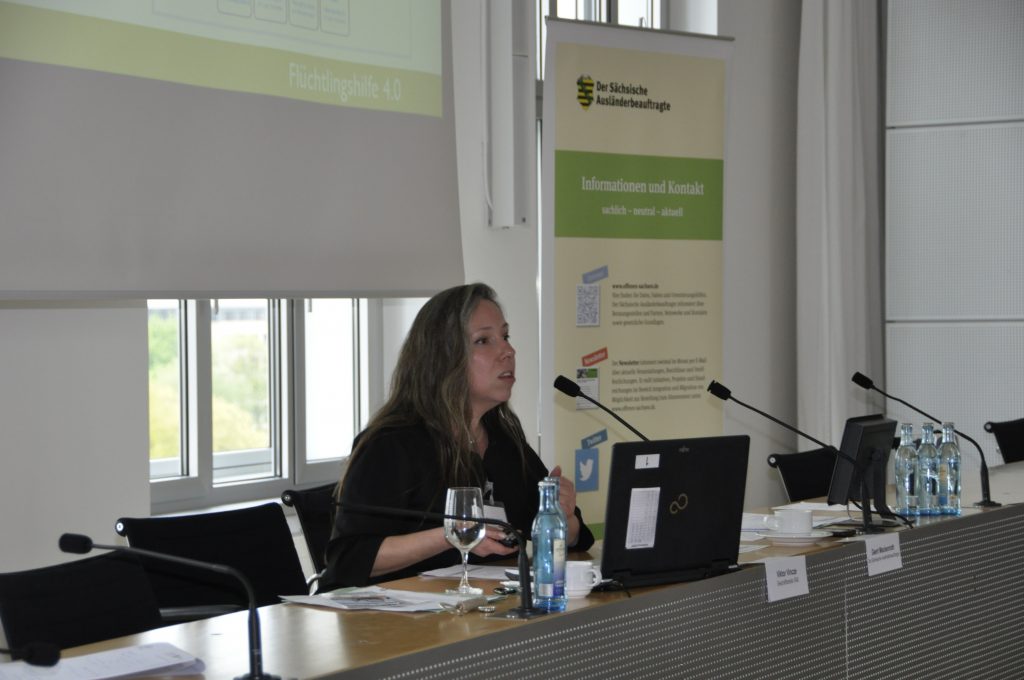 Briefly the four stages of refugee assistance 4.0 as an overview:
Refugee aid 1.0 = Welcome app Dresden:
only for refugees as a target group, only smart phones as a medium only Dresden as a regional focus, commitment of Dresdner enterprises
Refugee aid 2.0 Welcome app Germany =
For more modern platforms, Tablet, laptop, desktop computer, Terminal for all the inter players of integration and refugee aid for Germany as a whole with many information and many regional added value, HeiReS as sustainable further developer and operator
Refugee aid 3.0 = Help for migrants, and all foreign citizens
more languages, broader understanding of migrants, learning German, country level Saxony, approach to other countries, IT helps gGmbH as sustainable operator
Refugee aid 4.0 = digital help for all
For openness to the world, for education, for employment prospects, accessibility – implemented in different digital solutions by IT helps gGmbH and the interaction with the inter players of refugee assistance
If you are interested, Peggy comes if necessary over, to keep this presentation because it is not safe alone relevant in Dresden.
Soon also the presentation for the lecture can be viewed.
Keep looking forward.
Peggy
Here the "Refugee aid 4.0" lecture to the Gleanings:
[slideshare id=75915808&doc=ithilftggmbhvortragflchtlingshilfe4-170512095845&w=800]