Info letter to all Welcome app "Customers"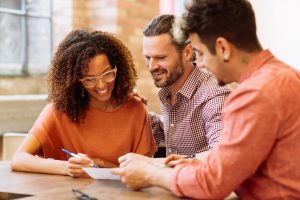 At regular intervals, our Welcome App customers-the term customers here means the integrated regions such as cities, counties, federal states-receive an information letter from us with current stati, innovations and developments around the Welcome App Germany. At the end of a year, of course, such a resumé will be a little longer and longer. And at the end of 2017, when a lot really happened, we were able to delight our customers with a lot of news.
Since we have found that quite a lot of those interested in the Welcome App prefer digital reading and also a lot of things in this letter are likely to be of interest to the general public, we will now also make these cover letters available online in the future. In addition to our blog and newsletter, they are a very compact source of information and are updated and sent to a similar number of times.
Topics of the information letter November in 2017 included:
Two Years Welcome App Germany-Two Years of Successful Integration Assistance
Transformation from refugee worker to only full migration/integration platform
In concrete terms, the expansion of available languages to include Spanish and Turkish, as well as planned ones in the future
Nearly 100 independent regions (cities, counties and 3 federal states) with local information and contacts
YouTube channel with great, sketchy explanatory videos including. Subtitles and spokesperson text on life in Germany
New postcards and notices for spreading the Welcome app in user circles
Review of Future Congress "Migration and Integration"
Current download numbers and the ongoing uptrend
Completely revamped iOS version available
New version of the Welcome app as software for older Windows PCs in the works
HeiReS now has two Syrians permanent on an equal footing-into their 10-strong team.
New colleague and contact person-the first permanent IT employee is helping gGmbH
All the topics mentioned above are always associated with questions: What can we do for you in a supportive way? When do you get active? Which languages do you also want? Which region needs integration into the Welcome app? What topics would you like to see as videos? The feedback from the regions as well as everyone else involved in the Welcome App is always extremely important to us. After all, however, the regions in particular have, for example, B. Aid organisations and associations involved much more than we have the direct and concrete insight into what could be improved with our app for migrants and immigrants in Germany in terms of the provision of information and the transfer of knowledge.
Link to the full info letter Nov. 2017 as PDF
Finally, a small pre-Christmas request:
We were able to achieve the great successes on the one hand thanks to the cooperation with the municipalities, but also thanks to the friendly support of companies and private individuals as donors. As a young non-profit company, however, this is not yet to the extent that we would like it to be. We would be very happy to make a donation to the account below. Do not hesitate to recommend us in your region to companies. In addition to a proper donation receipt, we can transform charity activity into comprehensible results as digital helpers. Donations can be made here in an easy way: http://it-hilft.de/spenden