IT can not take limitations of people, but make life a little easier for them.
For more accessibility
Current social challenge:
Social participation in work and everyday life is complicated up to impossible for people with disabilities and impairments.

The accessibility targeted by federal participation law and inclusion is hardly in practice. IT can not take their limitations of people but can make life easier for those who are disadvantaged through disability. Solutions designed for persons with disabilities are specifically but are rare and often seen as extra expensive. Standard solutions in IT – whether it be software, mobile apps, web sites, or multimedia – are in more than 95 % not designed so that they could be meaningfully used by people with disabilities. The implementation of accessibility is wiped out by companies and management often with the arguments of more difficult feasibility and the allegedly high cost – although digital solutions could support and help.
Our projects as a solution: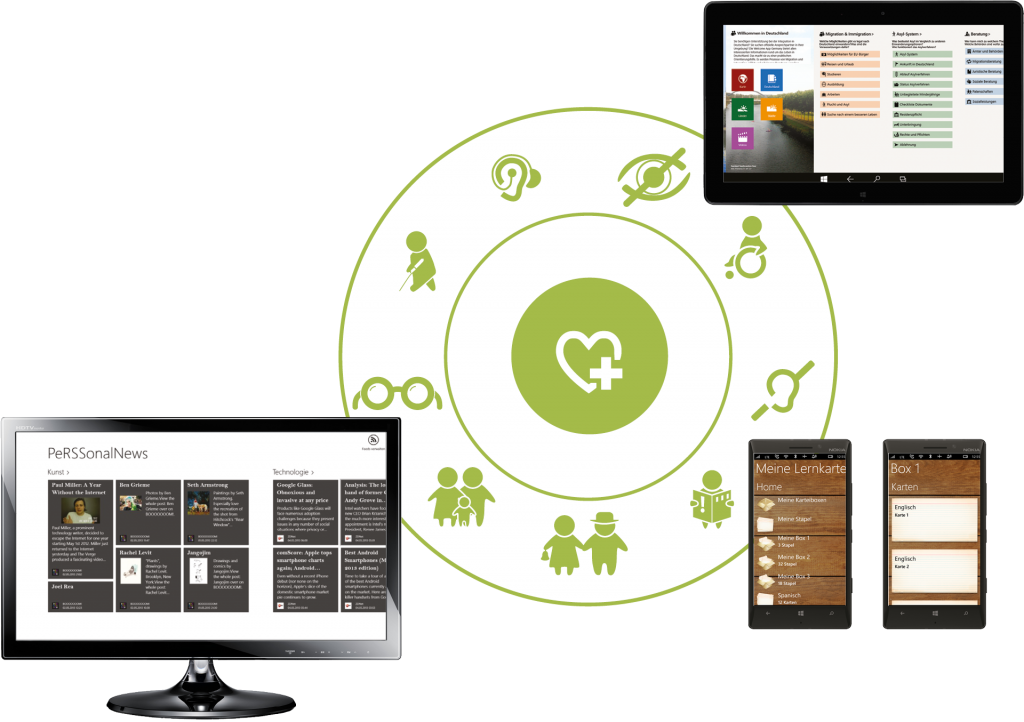 Our big goal is the establishment of barrier-free standards in solutions of all kinds through benchmarking and training. The fundamental key to accessibility is in the bridging of the restricted sense or ability using technology to the stronger other senses.
For example software can be made using IT allowing a blind man to hear the content. A deaf person can take part in communication or acquire knowledge through imagery and listening to an illiterate through sign language translation. The knowledge about the implementation of accessibility in IT solutions are available for us as professionals – either through appropriate operating concepts, simple language, universal design and assistive technologies to connect to the use of devices as everyday helpers.
Visions of development:
Simple design and use of assistive technology
Many languages through automated translation
Establish keyboard operation and reading mode
Up to date reach by barrier-free newsfeeds
Creating transferable standards in IT solutions
Alternative representations for illiterate
Complete barrier reduction with views of seniors
IT can not take limitations of people, but make life a little easier for them.
Latest news about this topic:
Press release 07/21/2021: Peggy wins Excellence Award while speaking at the 7th International Speaker Slam